Esher house prices dip -1.12 per cent
Since the beginning of the year, two South East areas now feature in the five biggest 'house price fallers' list – Esher in Surrey (-1.12 %) and the Edgware district of central London (-1.01%).
Surrey housing market forecast | Could Guildford house prices fall in 2019?
Let's take a closer look at the data;
Over the past decade, prices of all types Surrey pad have spiked by 31%.
The average home in Britain has risen in value by £3,917 or 1.03% in 2018.
In general, it has been a better year for the UK property market; now worth an estimated £8.3trillion, in comparison to the same period in 2017 where the market shrank by £29bn.
The Bank of England predicts a 30% drop in UK property prices in the event of a 'no deal Brexit.'
However, a recent Rightmove report forecasts flat property price growth throughout 2019, with the South East and London Commuter-belt regions reducing by around -2%.

Would it be so bad if Guildford house prices DID fall?
A lack of affordable housing is a serious issue that's affecting the whole country and there's no exception when it comes to the Guildford Surrey areas. Local housing associations and councillors have continually aired their worries regarding the lack of affordable housing surrounding the Guildford postcode, which is essentially pushing out the boroughs young people who can really help to build the community and local economy.
Did you know that Surrey is one of the UK's most expensive areas to live? So, if you're seeking property for sale in Surrey, bear in mind hopeful buyers must earn around £85 per hour to purchase their dream home here; about fourteen times the average salary!
Would falling property prices help more people get a foot on the property ladder and strengthen our communities further? Or could a property downturn actually reduce the number of affordable homes being built? As when prices fall, developers' profits shrink; sometimes retreating from the market altogether.
House price predictions 2019 | How are Guildford businesses weathering the storm?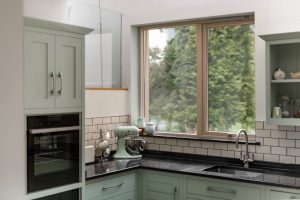 P&P Glass' Managing Director Tom Scanlan commented: "Over the last 12 months, leads and sales are up against our 2017 data.
"P & P Glass are approximately 11% up on leads for the year, with 21.63% of these coming directly through our website. Impressively, by the end of June, we were already 10% up on our year on year leads."
Property for sale in Surrey – We're certain of uncertainty!
Whether you're planning on improving instead of moving or upgrading your homes aesthetics to make it more appealing to potential buyers, contact the P&P Glass Solutions team to discuss your project further, gain advice and get the ball rolling.
Related to this post: Why is Guildford so popular for second homeowners?