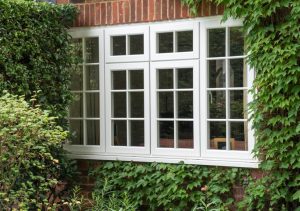 When replacing old timber windows, concerns may arise that the new ones will not match up to their predecessors. Fortunately, with evolutions timber effect windows, homeowners need not worry; they look as good as old timber windows, plus they come with a range of modern features. But, that's not all. Here's 7 reasons why you really should consider a pair.
Evolution timber effect windows are superbly efficient
Fitted with modern double glazing, evolution's timber effect windows boast energy efficiency ratings of A+ and U values as low as 1.3. This means they'll save you considerable amounts on heating bills during the winter, and stop you from losing your cool during the summer. Triple glazing is available for those who want to achieve even higher levels of efficiency.
They look just as good as timber windows
Extreme care has been taken to replicate traditional timber windows, with designs based on those found on classical cottages. This ensures they're an exceptionally close match to old timber versions. Finally, their framing is finished in a woodgrain effect, making it almost impossible to tell the difference between a timber effect window and the real thing.
Suitable for a range of properties
Due to their close replication of traditional timber windows, they are suitable for a range of traditional properties, including cottages. However, flush casement versions have exceptionally slim sightlines, allowing them to achieve the ideal look for modern properties which emphasise a minimalist design.
They ensure your home remains secure
Fitted with an ultra-secure multi-point locking system and toughened glass, timber effect windows ensure your home is rigorously protected from unwanted intrusion.
Incredibly low maintenance
Renowned for its ability to achieve high performance levels with only a minor amount of maintenance, PVCu is an impressive material. As timber effect windows are constructed from it, they will continue to look great with only the occasional wipe down.
Exceptional versatility
All timber effect windows in the evolution collection are available in a range of standard colours and over 200 RAL colours. This means they can be matched to almost any colour and property. They come available with a range of additional furniture and glass options too; this includes Georgian bars, leaded and clear glass, ensuring homeowners can tailor their windows to their exact specifications.
The Storm 2 collection
Boasting the exceptional levels of security found across the whole evolution range, the Storm 2 collection look fantastic. The ultimate in storm-proof design, their A+ 13 energy rating marks them out as one of the best timber effect windows on the market.
Homeowners needn't worry when replacing old timber windows; evolutions timber effect windows are more than able to meet their aesthetic and practical needs. Here at P&P, we're proud installers of the evolution range and many other glazing products. If you're curious to find out more about what we do here, then please feel to get in touch. You can call us on 01483 467250 or send us an online message.