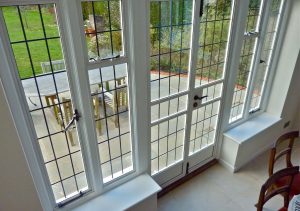 Shockingly, there's been an average 38 burglaries reported each week in west Surrey since April 1st. Added together, this equals over 300 burglaries reported in Surrey Heath alone in just over 8 weeks! To put this into perspective, in April 2017 there were 524 cases of burglary recorded across the whole county! Consequently, Surrey police are urging homeowners right across Surrey to be especially vigilant to prevent the risk of being burgled this Summer. However, sometimes you can do everything in your power to reduce the risk of break-ins, e.g. consistently locking all windows, doors and fences and putting all keys out of sight – but if you have an insecure and inefficient door this will really scupper your efforts to keep burglars at bay. Although, it would appear that home security doesn't rank particularly highly with UK homeowners considering the following statistics:
In the majority of burglary cases, criminals enter the building through a front or back door
70% of homeowners don't have a burglar alarm fitted
16% of homeowners admitted not bothering to lock their windows and doors every time they went out!
So, if you're wondering how to make sure your patio doors are secure enough please continue reading.
What are steel replacement French Doors?
Mainly used in commercial projects due to its durability and exceptional strength, aluminium is finding its way into more and more residential applications as homeowners look to increase their security measures. Our steel replacement French Doors beautifully blend the traditional stylings of classic French Doors with the latest thermally efficient door technology, creating the ultimate patio door solution for vigilant Surrey homeowners.
How are steel replacement French Doors more secure than uPVC patio doors?
There are an array of benefits to upgrading your uPVC patio door to a steel replacement French Door, including:
• Remarkable hardiness and stability
• Toughened 24mm double glazed units, as standard
• Weather resistant; treated to resist rust
• Long-lasting, enduring qualities that surpass the lifespan of uPVC patio doors
• Attractive and fashionable industrial aesthetics for contemporary homes
• Very low maintenance
• A wide range of glazing and designs to choose from
Superb French Door solutions in Surrey
Ideal for new build projects, our steel replacement French Doors are made to your exact requirements and can be customised to fit in with your lifestyle and particular taste as much as you like. Extras include additional kick panels, welded bars, cottage panes, match leaded panels and traditional face bolts. Or opt for something a bit more modern, e.g. full-length glazing, combined with a proactive multipoint locking shoot bolt system for the ultimate peace of mind.
Interested in a reliably reinforced, hand-crafted French Door? Call us on 01483 467250 or send us an online message and upgrade your patio door home security today.