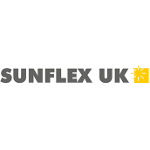 SUNFLEX aluminium sliding doors offer a dynamic look to any property and maximise the light into your room whilst releasing the potential of your view.
A sightline of 83mm is offered with the SVG83 and you can upgrade to the very sleek SVG30 with an incredibly slim 30mm sightline.
From one panel sliding on an extended track up to eight sliding panels, all possible with our twin and triple tracks enabling spans of over 20 metres to be accommodated by one set of SUNFLEX UK sliding doors.
Sliding doors ideally lend themselves to the larger apertures where you can have much larger glazed panels and the frame of the panels overlaps which means the sightlines are smaller than that of folding doors.
This ensures your doors look good open or closed which is ideal for a changeable climate like ours. Sliding doors that offer a seamless flush floor look without compromising on the weather rating.