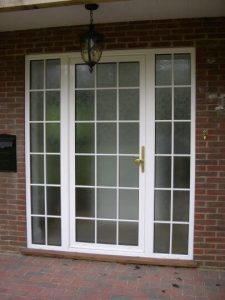 As you take time out at home with family and friends this winter, the festive break also provides the ideal opportunity to take a moment to process what you could improve in the coming year. Upgrading your front door can instantly change the feel of your home, whilst enhancing your kerb appeal – it is one of the first things visitors notice, after all.
Aluminium entrance doors and composite doors have soared in popularity in recent years, thanks to their heat retentive and strengthening qualities. So, if you're finding it hard to decide which entrance door option is the best choice for winter warmth, allow us to clarify a few essential points that may help your decision along.
Aluminium entrance doors vs composite doors
1. How thermally efficient are aluminium entrance doors?
In previous years, aluminium entrance doors haven't been rated for their energy efficiency, due to their high conductivity and poor insulation characteristics. But thanks to door manufacturing breakthroughs in the last decade this definitely isn't the case anymore, thanks to 'thermal breaks' or 'thermal barriers' being incorporated into their construction. Thermally broken aluminium entrance doors proactively stop conductive thermal energy loss by embedding a non-conductive barrier in between the inner and outer aluminium panels. This stops valuable heat transferring between them, saving homeowners money on future energy bills whilst keeping as much winter warmth in as possible.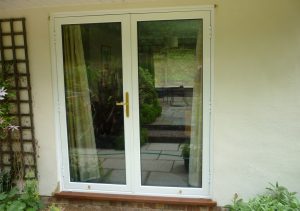 2. Aluminium entrance doors are lightweight and slender
Aluminium boasts incredibly lightweight properties, which means aluminium entrance doors are able to utilise more glass within their design without compromising on security or strength. As well as being lighter and slimmer than composite doors, aluminium weighs 67% less than steel; making it much less likely to warp over time.
3. How long do aluminium entrance doors last for?
Compared to composite doors, aluminium entrance doors have an incredible life expectancy of 10-15 years longer; lasting up to 45 years whilst remaining low maintenance and stress-free.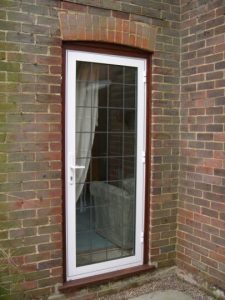 4. Larger aperture possibilities
Aluminium is fabulously flexible, so aluminium entrance doors can be manufactured around 30% bigger than composite doors. This provides limitless possibilities when it comes to formulating a creative and individual entrance door design, giving you true creative freedom! Able to achieve stunning contemporary and traditional aesthetics alike, complex shapes and designs can be accommodated with ease and finesse.
5. Sustainable and environmentally friendly
Not all composite doors can be recycled, although our range from Solidor can, however, aluminium is much more energy efficient. As the third most abundant element in the world, aluminium is one of the world's most sustainable building materials around – with estimates suggesting that 75% of all aluminium ever produced is impressively still in use to this day.
Make a statement in 2019 with a new aluminium entrance door
We hope we've provided some helpful insight into aluminium entrance doors and composite doors. If you wish to discuss your options further, please don't hesitate to contact our knowledgeable team or visit one of our extensive showrooms in Guildford, Wimbledon or Esher for further entrance door inspiration.