We often hear homeowners are concerned that replacement woodgrain effect windows will look too new when used to replace their existing timber windows. However, ours are built using the designs of timber windows that were fitted on classical cottages, ensuring they have a traditional timber window appearance down to the most minute detail. Plus, they come with an authentic woodgrain foil finish, which makes them virtually indistinguishable from actual wood.
If your existing timber windows show clear signs of age, it's true that a set of replacements will not come with signs of visible wear and tear. However, their heritage design and classic wood-like finish ensures they'll have all the timeless charm of your existing windows whilst freshening up the look of your home. They also come with a range of other features to help them achieve a classic look.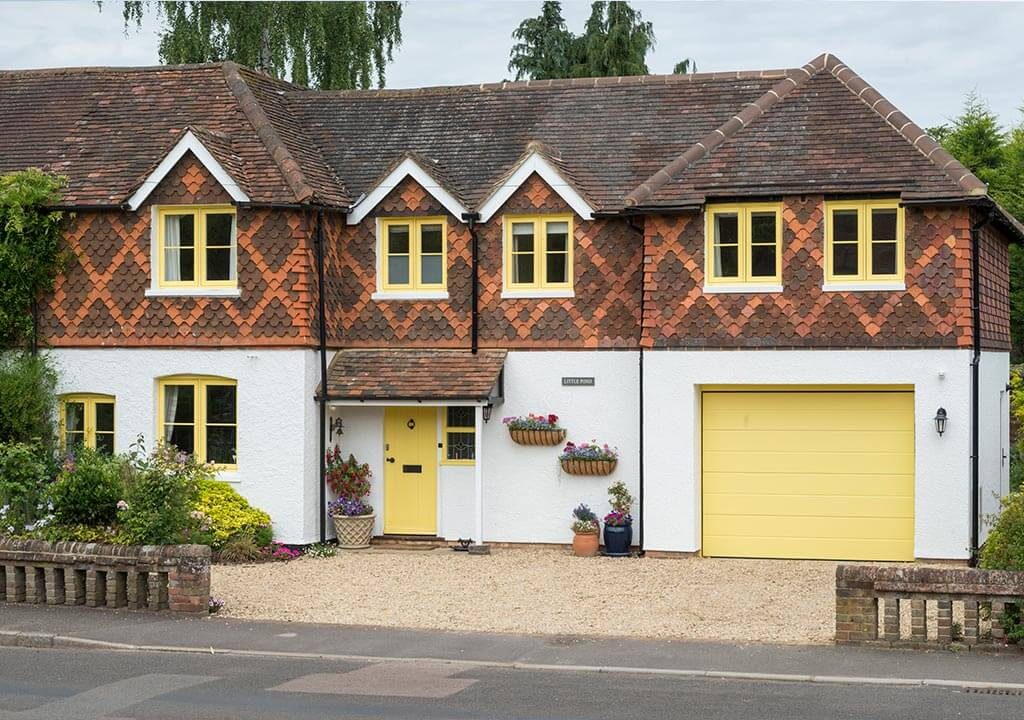 Patented timber look corner joints
One area where timber effect windows have struggled to replicate the real thing in the past are the corner joints. This is because uPVC windows are, generally, made with welded corner joints whilst old timber windows have mechanical ones.
However, our Evolution timber effect windows are available with their own patented timber-look corner joints. This ensures that the window sashes accurately replicate the joinery methods used on traditional timber windows, resulting in an even more authentic timber window appearance.
Georgian bars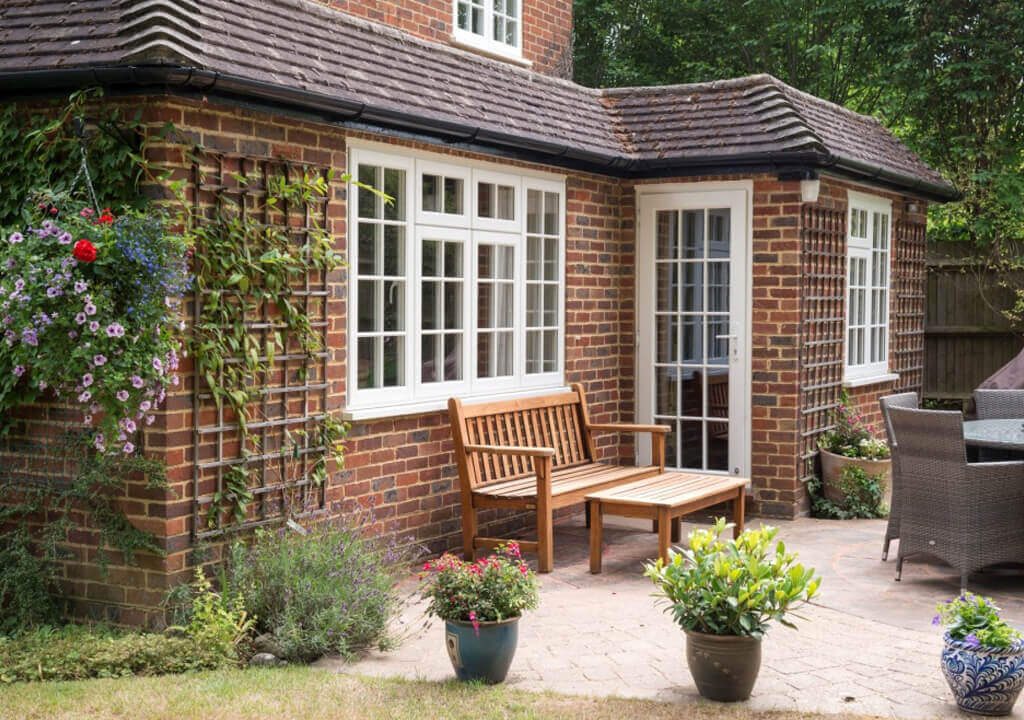 As you might have guessed, Georgian bars emerged during the Georgian era when large panes of glass were not available. On our Evolution windows the Georgian bars sit on the inside and outside surfaces of the glass, as well inside the sealed unit between the layers of glazing. This separates the glass into traditional Georgian sections that gives them a look that is typical of the windows fitted in period properties.
Our timber alternative uPVC windows are available with them too. So, you can further adhere to a more traditional aesthetic.
Leaded glass
Leaded glass has been used in windows for centuries and is another feature that is typically associated with a traditional window design. Leaded glass windows were originally constructed by combining small sections of glass using lead cames. In modern windows, however, the lead is applied to the surface, which gives them the same classic look.
If you'd like leaded glass to be incorporated into the window's design, we're able to do this for you too.
Traditional hardware options
Our timber effect windows don't just adhere to the period aesthetic from the outside. Thanks to a range of traditional window hardware, the classic look is attained on the inside too. Choose from curved, bulb-end and monkey tail window handles, along with bulb-end and monkey tail peg stays. Each hardware option also comes in either a Pewter or Black finish.
However, looks are not everything, and there are plenty of other reasons to consider timber effect uPVC windows which we've looked into below.
Superb thermal performance for a beautifully warm home
uPVC is an excellent insulator of heat, and within the frames of our timber effect windows you will also find numerous heat-trapping chambers. Combining these heat-trapping frames with the latest double glazing, they achieve U-values of 1.3 W/m2k as standard, demonstrating that they can retain a lot of heat inside the home.
If replacing old timber windows that are single glazed with them, you will instantly notice that your home feels much warmer and more comfortable. Plus, you're likely to see a noticeable drop in your energy bill too.
Bolster your home's security
Old windows are not equipped with the same degree of security hardware that you find on today's windows. For starters, single glazing can be easily broken to force entry, whereas double glazing is notoriously difficult to break. Plus, if the windows have deteriorated enough, their structural integrity is likely to be compromised.
However, uPVC timber effect windows are secured at several points around the framework via a high-quality multipoint locking system. Modern uPVC material is also incredibly rigid and durable, so it will retain its sturdiness for years to come.
Virtually maintenance free windows
Another fantastic benefit of uPVC is how easy it is to keep clean. All you'll ever need to do keep our woodgrain effect windows looking their best is give them the occasional clean with warm, soapy water and a soft cloth.
Still not convinced that they're right for your home? Check out these 7 reasons why you should consider them.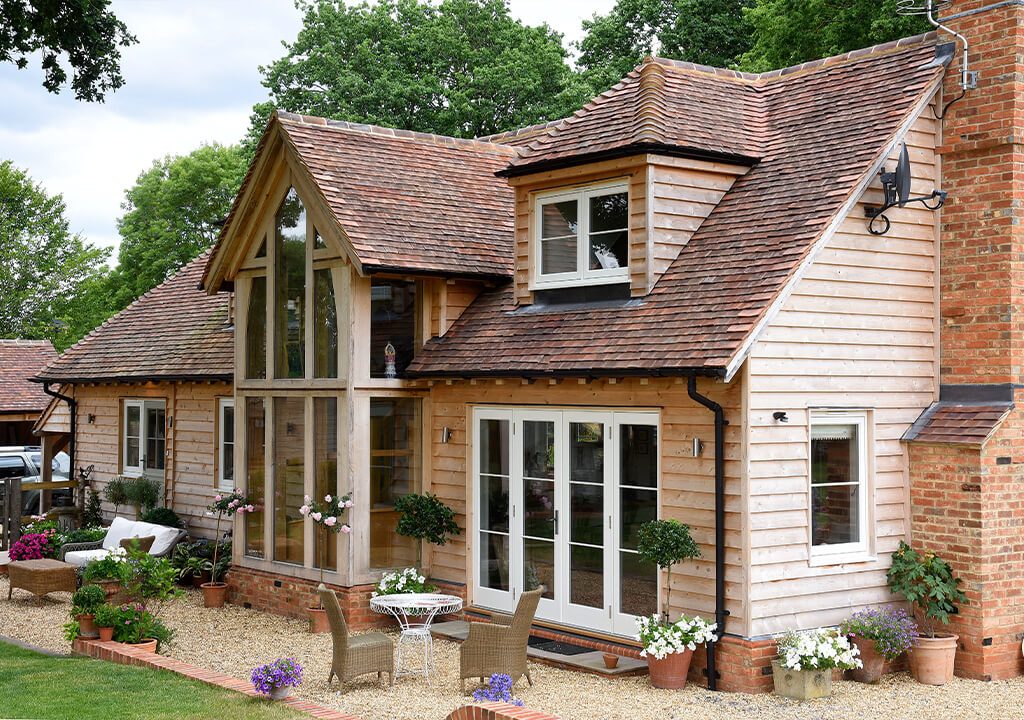 If you're still worried after all that, you could just opt for real timber windows instead…
The reason timber effect uPVC windows are marketed as such is because of how accurately they replicate the real thing. For this reason, they're regularly approved for usage in conservation areas around the UK. However, if you're still not satisfied, why not opt to replace with a set of real timber windows instead?
Stormproof timber casement windows
Our stormproof timber casement windows feature a design that is typical of timber windows that were built during and after the 1950s. So, if you happen to live in a property that was built after the war or a more modern home, they're an excellent fit.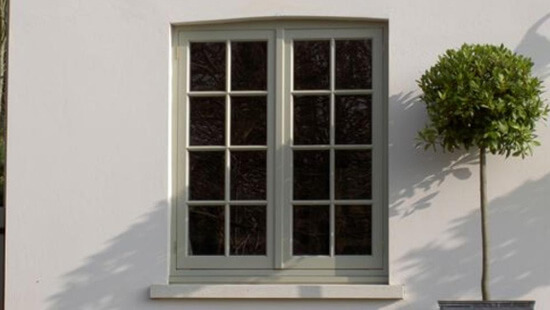 Flush sash timber windows
If your home was built prior to the 1950s, however, our flush sash timber windows are just what you need it. Their flush sashes are typical of classic timber windows, but they come with modern double glazing and the latest security hardware to ensure for optimum security and comfort.
Lots of homeowners are choosing our timber windows over uPVC and you can learn about some of the reasons why in this blog.
Do you require suitable replacements for your old timber windows? Whether you prefer timber effect or the real thing, P&P Glass can help. We have currently paused our operations because of the COVID-19 outbreak, but we're still taking home improvement enquiries. So, please feel free to give us a call on 01483 467250 or contact us online.