Upgrading your kitchen and bathrooms are some of the largest & most complicated projects in a home. Doing so can easily add more value to a home but can cost a lot in the first place. Let us give you a few reasons why you don't need to spend a fortune on a whole new kitchen or bathroom by just switching your splashbacks.
A new looking room in a lot less time
Having your old kitchen or bathroom ripped out is no small job. In between the plumbing & electrics, it's not something the average homeowner feels comfortable to tackle. But painting cupboard doors, changing the handles, and upgrading to a new glass splashback will make the room look like new, and in a lot less time. In a bathroom, you may want to take some old tiles off around the room & use bathroom suitable paint, then choose a large splashback for the shower area. We can carefully place the splashbacks over old tiles and, bingo, no need to make any mess & expose an un-tiled wall that might actually cause you more issues. We can offer you more advice about our installation options when you enquire.
Get creative with our digitally printed splashbacks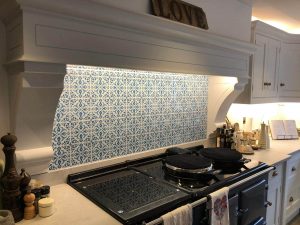 Coloured splashbacks look great in any room, but if you fancy a patterned or pictured one, our glass digitally printed splashbacks make a brilliant focal point. Whether it's a brick effect or city scene, you could make your bathroom or kitchen feel like you're in a whole different space. There's no reason why you can't achieve the luxe hotel look or create a serene spa feel, the options are almost endless. Get your creative hat on!
Easy elegance & less cleaning
Uninterrupted splashbacks look clean & accentuate spaces. Plus, you can forget tiles and grouting, using a splashback especially in a shower eliminates the extra need of cleaning in-between the grout lines. They simply need waterproof silicon sealant to ensure it's totally waterproof, but we'll take care of that for you. You can use normal anti-bacterial & bleach sprays on the glass splashbacks to keep them extra clean.
If you aren't already considering putting together a Pinterest board of ideas, here are a few of the top features of our splashbacks:
We can colour match to any RAL colour
All splash backs are individually made to measure
6mm plain, tinted or antique effect mirrors can also be used.
Cut outs to incorporate plug sockets and cupboards
They are made of safe and durable toughened glass
They come in 6mm glass with a foil backing that creates the perfect surface for bonding to the wall
No grouting needed, making it very easy to clean
Superb splashback ideas for your Surrey home
We hope this blog has given you plenty of splashback inspiration & ideas. For more information or for a free quote, give us a call on 01483 467250 or contact us online.