The similarities between bifold doors and sliding doors begin with their popularity, light maximisation & view enhancing qualities. However, the correlation ends when it comes to the way they operate – allow us to explain.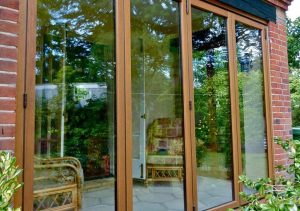 Bifold doors
Bifold doors, also known as 'folding-sliding doors', open via contemporary concertina-style folding door panels that elegantly glide along a bifold tracking system. Combining versatility and strength, bifold doors are unlike any other door system around as they can be constructed with two to seven door leaves depending on the project. Able to open inwards or outwards and fold from left or right, many Surrey and southwest London homeowners choose outward openings to maximise their interior space.
Developers also have the choice of incorporating standard doors at either end of the installation, for ease of use and effective preservation of the folding door panels. Creating a stunning wall of glass, bifold door installations are most suited to modern renovations with a clear vision of seamless outside space integration coupled with maximum amounts of natural light.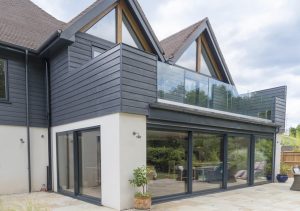 Sliding doors
Sliding doors, also known as 'patio doors' or 'patio sliders', open with a side-to-side action that allow large expanses of glass to smoothly glide behind one another. Stylish and practical, sliding doors are ideal for Surrey homes that are limited on space. Further space saving qualities sliding doors can offer is the option for a 'hidden pocket' version, where the door panel slides into the wall to create an impressive 'open wall' effect.
Sliding doors with slim sightlines also cut down the impairment of far reaching views when they're shut. Allowing homeowners to classically connect with their outside spaces, sliding doors utilize essential space and light with an array of cost-effective options to choose from.
Create unique living areas with brilliant bi-folds or striking sliding doors
With a range of bifold and sliding door materials to choose from, at P&P Glass we're confident that we have a bifold or sliding door design that will intensify your homes appeal whilst substantially enhancing its aesthetics. With a superb selection of practical PVC, state-of-the-art aluminium or traditional timber bi-folds and sliding doors on offer, take some time out and have a browse through our extensive collection.
As you can see, both door designs suitably complement all types of properties considering the current 'on-trend' fusion style. But If you're still unsure which type of door will complement your home best, why not visit one of our showrooms to get a real feel for our delightful door products? For further advice and support, get in touch with the P&P Glass team on 01483 467250 or send us an online message.