Why are steel windows a popular industrial style?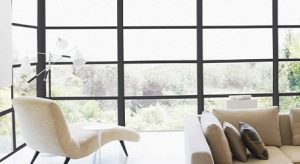 Steel framed windows have been around for over 160 years and we can't deny that they provide stunning sightlines and aesthetics, specifically in heritage and refurbishment projects. As well as the pencil-thin sightlines steel windows are renowned for, their main appeal has always been the industrial feel they exude that deliver amazing amounts of light; especially to north-facing rooms. However, many homeowners in today's climate have already stretched their budget to the limit with their initial property purchase, so cannot push towards the dizzying heights of authentic steel-framed window prices!
The industrial & modern look steel window alternatives
Whether you're a homeowner desperate to upgrade your existing rusted or warped original steel windows, or you're searching for a cost-effective alternative that refuses to compromise on stunning industrial-inspired aesthetics, don't worry! There's an appropriate alternative to steel windows, in the form of aluminium steel replacement frames. Let's explain why we choose the lighter, sleeker alternative and why there's no need to compromise when replacing original steel window frames.
Aluminium, a cheaper alternative to steel windows
Aluminium steel replacement windows are an exclusive range of windows that supply considerably slimmer frames and opening sashes; offering virtually the same look as steel windows. They're also more cost-effective than steel window frames so you won't have to spend as much money to have them installed.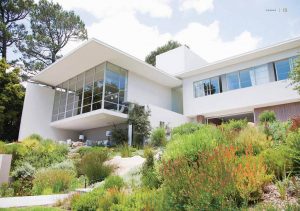 Other than cost, why choose steel replica windows?
1. The look of steel but made from aluminium 
Presently, the smooth look of aluminium is more 'on-trend', in comparison with the traditional 'hammered' look that steel frames are renowned for. But if this is the look you're going for, then steel replacement aluminium windows are available in a unique hammerite finish as well as the usual matt, semi-gloss and gloss finishes. With an array of colours to choose from, any standard RAL colour can be applied with the option of dual colour which successfully complements both interior and exterior styles. Combining a dazzling range of glazing bars, leads, window shapes & various glass effects, steel alternative windows competitively & authentically replicate period window features with great ease and finesse.
2. Energy efficiency
With highly secure, full-height multipoint locking mechanisms (fitted as standard) that utilize frames as slim as 23mm, our steel replacement windows offer the perfect mix of security and slender thermally broken A+10 rated metal frames around. When you realise that aluminium weighs 67% less than steel, combined with the latest glazing technology and the latest thermally efficient glass, you can understand why steel alternative windows provide homeowners with a much safer, brighter and warmer feeling home.
3. Versatility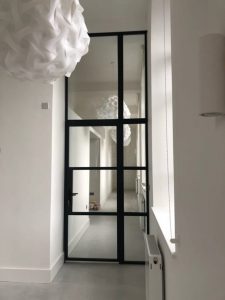 Fully complying with conservation and building regulations, steel alternative windows are quintessential to Georgian-era and period window replacement projects. Our steel alternative windows can be directly fixed or installed into new or existing timber subframes; truly opening up the space like never before.
Can you replace steel windows?
At P & P Glass we regularly replace aged steel windows with enviable aluminium steel replica windows. Sometimes restrictions may apply, but with a wealth of experience regarding local planning permissions throughout London and Surrey, we can take care of this for you.
Steel alternative windows vs steel windows | Alluring aluminium steel replica window replacements
Ideal for a broad spectrum of property types, from traditional to contemporary and old to new build, get in touch with the P&P Glass team and begin your stylish steel alternative window journey today! We also install stunning steel replacement doors too. Call us on 01483 467250 or send us an online message and we'll be in touch very shortly.
Related to this post: Are your patio doors secure enough?