A Guildford homeless shelter has been given a comprehensive spring clean by one of the region's biggest home improvement companies.
Staff from Surrey's very own P&P Glass put on their marigolds to help the Number Five Project, which has offered a vital lifeline to local homeless people for nearly thirty years.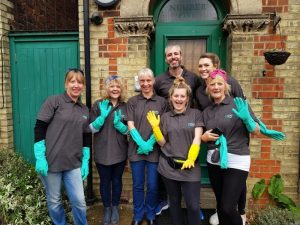 From 6pm every evening, up to 14 men and 2 women can enjoy a hot evening meal, a shower and a bed for the night.
They're also given a valuable chance to socialise and make friends in the shelter's communal dining room and TV lounge and can get help with benefits, medication and referral to specialist agencies, like addiction support.
"We've spent the best part of forty years helping local people make their home improvement dreams a reality," comments P&P Glass Managing Director Tom Scanlan.
"But this year, we wanted to give something back to the thousands of people who don't have a permanent roof over their heads.
"The number of homeless people in the UK increased by 13,000 last year, reaching a shocking total of 320,000. One in every 200 people are now sleeping rough or in temporary accommodation.
"That's why we've made Number Five our chosen charity of 2019. Thanks to the tireless work of dozens of inspirational volunteers, Number Five offers much-needed support to thousands of local homeless people every year.
"We've started by sending a group of fantastic P&P employees down to give it a deep clean, and throughout the year, we'll be raising money and awareness for Number Five in every way we can."
Neale Redman, Project Manager at Number Five, comments: "Jennie and 'the Clean Team' from P&P glass came with buckets and dusters in hand and made a huge effort to give our whole project a spring clean from top to bottom – even the skirting boards were sparkling!
"They really got stuck in and were such a help – thank you so much to everyone involved!
"We're looking forward to partnering with P&P glass in the future and really do appreciate all their support.
"If you'd like to learn more about what we do, or support our work, please don't hesitate to call us on 01483 303646, email info@numberfiveproject.co.uk or visit www.numberfiveproject.co.uk."
For more information call P&P Glass on 01483 467250 or visit enquiriesguildford@ppglass.co.uk