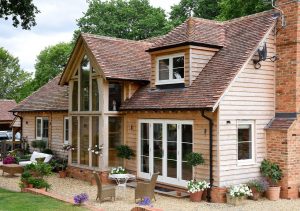 It's a challenge that thousands of British self-builders have had to overcome – how do you put something contemporary in very traditional surroundings, without spoiling what makes the area so special?
When Hampshire homeowner Ms Kaye faced the same conundrum, she turned to home improvement experts P&P Glass for help.
Located in a peaceful rural village, her existing property was a quaint thatched-roofed cottage with its own tennis court. But lovely as it was, Ms Kaye had different ambitions.
She approached P&P with a bold plan. She wanted to build herself a new, more modern home just next door – and she knew getting the windows and doors right would be crucial if the finished property was going to complement the surrounding countryside.
Originally, Ms Kaye had been pointed towards a local builder's merchant for windows and doors but was uninspired by the selection on offer. That's when a friend recommended P&P, and she went to investigate.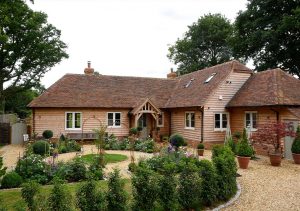 "Everyone in the showroom was so helpful," she says. "I didn't know exactly what I wanted, and really appreciated their patience as they showed me all the different options."
In the end, after browsing P&P's extensive range of windows, doors and specialist glass products, Ms Kaye opted for timber – a material that, today, balances timeless looks and easy maintenance, making it a perfect match for a project seeking to blur the lines between old and new.
She chose off-white flush casement windows with pewter monkey tail handles, and off-white French doors with sidelights, offering uninterrupted views of her garden.
And as a finishing touch, she selected an elegant Kingston entrance door, made from engineered European Redwood and painted a tasteful French Grey.
"I love the slim glazing bars on the windows," Ms Kaye says. "They're so elegant. They allow in tons of light, and make the most of the views of the garden and the countryside beyond."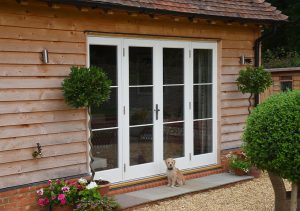 Now complete, Ms Kaye's new home is a stunning oak-framed building that's been clad in cedar. Inside, it's largely open plan, and her beautiful timber windows and doors perfectly complement the interior style.
"I love the natural look of the house," she says. "It's not just a typical new build. I didn't want to live in an L-shaped box!"
"P&P played an integral part in making my vision a reality. From the beginning of the project through to the aftercare, the service I've received has been very impressive."
For more information call P&P Glass on 01483 467250 or visit enquiriesguildford@ppglass.co.uk