Torn between timber, uPVC and aluminium windows, unsure of the alternatives? You're not alone – choosing a window material can be tough. Tom Scanlan, Managing Director of home improvement experts P&P Glass, is here to help.
When you're renovating, you know you want the best you can afford – the best quality, the best aesthetics, and the best overall performance for your money.
Sometimes though, that's not a straightforward decision. It's easy to get overwhelmed by the sheer amount of choice on offer – even when it comes to something as basic as what window material you pick.
But at P&P, we're not biased – we offer uPVC, timber and aluminium – and we're delighted to report that all three are excellent choices.
Today, which one you choose is more about your budget, and the look and feel you want your property to have.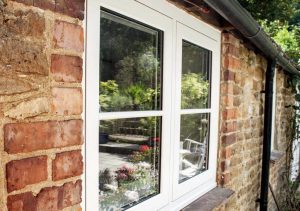 Let's look at the key characteristics of each of the three most popular materials.
uPVC
Strongly associated with the double-glazing boom of the '80s and '90s, uPVC has come a long, long way since it first appeared.
Modern uPVC is robust, extremely thermally efficient, and arguably the most aesthetically versatile material of them all.
Depending on the choice of finish and the setting, uPVC can look sleek and modern, it can look traditional, and it can be easily customised to suit almost any project or property.
What's more, it's virtually maintenance-free and is the most cost-effective of the three core materials.
There's a reason, in other words, why uPVC is still the UK's favourite when it comes to windows and doors.
Aluminium
Incomparably sleek and stylish; if one material defines the prevailing design trends of the last fifteen years, it's aluminium.

Watch TV shows like Grand Designs, and they're full of aluminium bifolds, sliding doors and floor-to-ceiling glass.
For contemporary-style projects, there's no competition. The slender sightlines and extensive glass areas it offers make it the obvious choice for strikingly modern new-builds and refurbs.
In the past, aluminium was known to offer poor thermal performance. Today, that's completely different.
The development of the polyamide thermal break – in essence, a plastic section built into the aluminium frame to stop heat escaping – has made modern aluminium among the most thermally efficient materials available.
Timber
When it comes to making doors and windows, timber is the original article.
The very first windows were made of wood, and wooden glazing products have been continuously in use for hundreds of years.
Take a look at one, and it's no surprise. They have a timeless elegance that no other material can match, just as suited to bringing a vintage touch to newer properties as they are maintaining the historic style of period ones.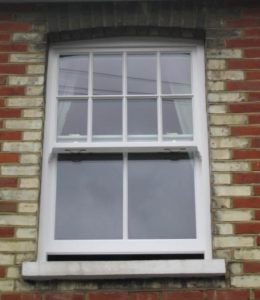 Some homeowners we talk to have concerns about the ethical and environmental aspects of using timber products, but the kind of timber used by companies like P&P is 100% sustainable.
It comes from well-managed forests, where new trees are planted to replace each one that's harvested – and since trees absorb carbon dioxide out of the atmosphere, that makes timber products better than carbon neutral.
Engineered timber, factory finished with a high-performance microporous paint or stain, is an outstanding modern window material that requires much less maintenance than it did traditionally.
With re-painting and staining only required every seven years on average, you do not have to worry about annual chores and once redone they will look as good as new again.
Timber-alternative
In response to a demand for a maintenance free period style window, in recent years we've seen the continued rise of what's often called 'timber-alternative' windows and doors.
Huge effort has gone into ensuring these wood effect uPVC windows look virtually identical to genuine timber. These products are made of a combination of modern materials, that allow them to balance authentic looks with easy maintenance, industry-leading insulative performance and high security.
Incorporating many of the features found on traditional timber windows, such as butt joints and flush fitting casements, they can be fitted where standard PVCu windows could look completely inappropriate and previously only timber windows would do.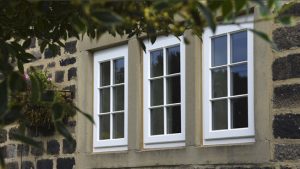 Composite
Aluminium outside and timber inside can provide the perfect combination of low maintenance and warm internal aesthetics.
These are the windows of choice in Scandinavia, where high performance is essential, and come with either double or triple-glazed units to provide the best insulation and heat conservation.
Available in a wide range of tough external powder coat finishes, and with different timber options inside, these windows offer a modern, contemporary look and are perfect for an ecobuild project.
Speak to P&P
In short, in 2019, there's no bad choice when it comes to window materials – but if you want some more guidance from a company that's been delighting South East homeowners for almost forty years, speak to P&P Glass.
Talk to our friendly team today on 01483 467250, or email enquiriesguildford@ppglass.co.uk!