Due to the ongoing lockdown, many families are having to make the hard decision to cancel their upcoming holidays. However, that doesn't mean that you can't enjoy a little luxury in your own home!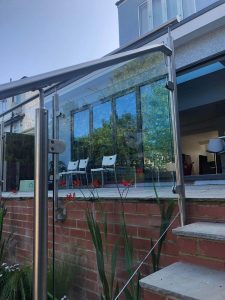 By spending more of our time housebound, our homes are having a bigger effect than ever on our moods, health, and our overall happiness. Giving your home a glamorous makeover can help revitalise not only your space but your overall well-being.
Make the most of your Surrey staycation
With the Surrey Hills Area of Natural Beauty on our doorstep, we can enjoy breath-taking views without jet-setting around the globe. From the peaks of Leith Hill to the picturesque banks of the River Mole, Surrey really does have it all!
If you have a wonderful garden you've been working on, why not enjoy it more from your decking. By adding a glass balustrade to your decking area, you can create a relaxing and serene space for you and your family to enjoy the uninterrupted scenery. Pair a space like this with some comfy chairs, some tropical greenery, and an ice-filled drink and you can soak in the sun in style!
Glass balustrades only make a small garden bigger!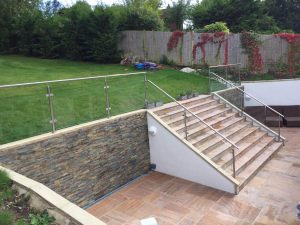 Many homeowners in city spaces feel that their gardens may be too small for balustrades. This isn't true! Traditional wood partitions and low fencing can cast too much shade and may make a garden feel boxed in. Adding a glass balustrade is a great way to section a smaller garden into separate spaces without blocking beautiful beams of sunlight. You could use an external glass balustrade to create a private sunbathing haven with our frosted glass options, a secure play area, or a stylish BBQ space.
Frameless balustrades, still solid, & secure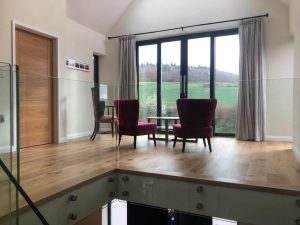 It is easier to relax when you know you and your family are protected in your home. Due to their strong and durable design, our glass balustrades are an excellent way of adding extra security to balconies, staircases, and walkways. For additional peace of mind, our wide range of textured and frosted glass styles also means you can maintain privacy.
Do you want to know more? Whether you want a glamorous garden or a secure balcony, P&P Glass can help! With over 15 years of experience, our expert team can help transform your home in the holiday haven, just in time for the summer sun! Feel free to call on 01483 467250 or contact us online today.