Improving your home should be an exciting time, but if you don't know what you're looking for it can quickly descend into an unnecessarily stressful situation. So, if you're trying to decide on the best type of patio door for your home, we've written this article especially for you!
Bifold patio doors vs sliding patio doors vs French patio doors
There are 3 types of door that typically fall under the term 'patio door';
Bifold doors – Also known as sliding-folding doors, concertina doors and continental folding doors, bifold doors feature folding door panels that can elegantly glide along a bifold tracking system. Incredibly versatile, bi-fold doors can be installed in a variety of configurations – including French doors, single doors and bi-folding panels from 2 to 22 doors wide.
Sliding doors – Also known as patio doors and patio sliders, sliding doors offer large expanses of glass that open with a side-to-side action; comfortably sliding behind one another.
French doors – French doors offer the most traditional patio door opening, opening inwards or outwards on a hinge.
To help you make an informed decision on a new patio door system, we've taken the time to outline the top 3 crucial features that need to be taken into consideration; security, energy efficiency and space-saving qualities.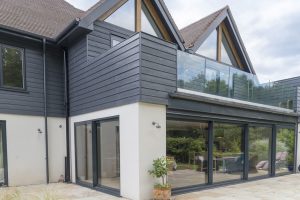 What is the most secure patio door?
In the majority of burglary cases, criminals enter through a front or back door. So, the first place to start is to examine the material it's made from. At P & P Glass, our extensive range of patio doors are available in a number of materials; aluminium, timber and uPVC; in that order, from strongest to weakest.
Peace of mind comes as standard with all our patio doors, as they all feature high-security, multipoint locking systems and double glazed toughened or laminated glass. However, some systems have additional security accreditations, e.g.
Conclusion:
Most secure patio doors: Sunflex range / steel replica patio doors.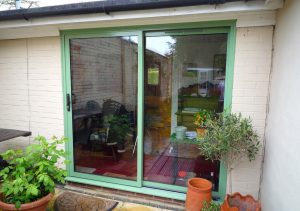 What is the most energy efficient patio door?
When it comes to energy efficiency, the material your new patio doors are made from is also a crucial detail to pay attention to. Although all of our patio doors are fitted with durable weather seals, the highest energy savings can be made with timber patio doors, closely followed by aluminium and uPVC.
It's also important to bear in mind how often the patio doors will be used, e.g. if you've set your heart on a bifold door, if it will be in an area that experiences high volumes of traffic you may want to consider a different configuration that features a traffic door, which will reduce energy loss further.
Conclusion:
Throughout history, sliding patio doors have been widely acknowledged as having the tightest weather seals. Whilst French doors have been known to be vulnerable to air and water leakage through the middle section, where the door panels meet. However, thanks to innovative thermal break technology and advances in patio door manufacturing techniques, the energy savings to be made are fairly similar with our range of high-performance patio doors.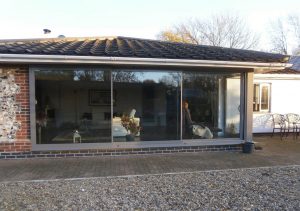 How do patio door styles affect the space?
You want your new patio doors to enhance and open up your patio and outdoor space, not inhibit it.
Bifold doors – When used as a main access door it is always more practical to have an odd number of panels with a free hinged door. A standard three-panel bifold door requires at least 1800mm to operate correctly.  Fully pushed back, bifold doors remove the barrier between the indoors and outdoors, which is ideal for larger spaces. They can also be utilised in smaller spaces, as long as there is space to fold-back the door panels of course.
Sliding doors –, Enhancing both small and larger spaces, due to their minimal sightlines the expansive glass panels are particularly striking placed in areas that have far-reaching views.  Generally, there will always be at least one fixed panel for the doors to slide over but where space is particularly scarce, sliding doors can also be configured to accommodate the popular pocket sliding door design; neatly sliding into a cavity wall.
French doors – French doors are the traditional choice and truly compliment patio areas that require as much warmth and light as possible. They can also be enhanced further with illuminating French door sidelights. For smaller spaces, hinged doors like these may restrict the amount of available space.
Conclusion:
The best patio door for your space is quite subjective, as it's a question of personal taste, and each patio door option can be tailored to meet your individual needs.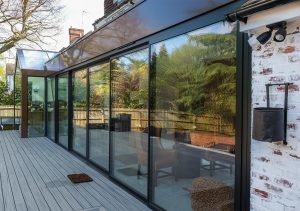 How do I protect my patio doors from burglars?
Other ways to secure your patio doors include:
Patio door blinds/patio door curtains.
Patio door locks should be locked every time you leave the house, even when you're out in the garden.
Keep gates and fences in good repair and locked at all times.
Improve natural surveillance at the rear of your property e.g. keep tall trees and bushes trimmed.
Install security lights.
Install a visual burglar alarm.
High-quality patio doors Surrey & South-West London
Offering one of the largest patio door product ranges available in the South East of England, have a browse through our extensive patio door collection online, visit one of our specialist showrooms or contact the P&P Glass team to discuss your options further.
Related to this topic: